All property owners should know the purpose of concrete coring in Boston! Updating a home or commercial building might involve running pipes or wiring through existing concrete. You might also want to install a drain or window through a concrete slab! Concrete coring can help with all these projects.
Before you tackle any such task, or assume you need a jackhammer to get things done, keep reading! Knowing a bit more about concrete coring, drilling, and other fabricating can make your project much faster and easier overall. You can also ensure a clean, safe, attractive property with the right Boston concrete coring services.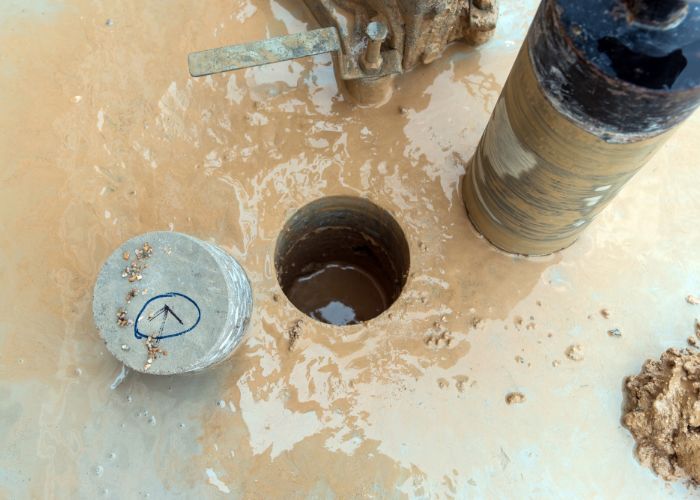 What Is Concrete Coring for Boston Properties?
Concrete coring refers to removing a cylinder-shaped piece of concrete from an existing slab. There are many reasons you might use concrete coring around your Boston property!
Removing a concrete cylinder allows you to run pipes, wiring, conduit, and other materials through a concrete slab. Without coring, you would need to break up the concrete, install your needed pipes or wiring, and then pour fresh concrete over that opening.

Coring is also an excellent choice for drain installation. You can quickly and easily remove a precise cylinder size from a concrete floor. The process is quick and easy, with little mess.

Concrete coring is a great choice for installing windows through concrete, such as in a basement. After removing concrete cylinders, sawing and sanding create a precise opening. You can then install window glass as needed.

Concrete coring is also a convenient way to create access points through concrete tanks, mixers, and the like. Coring removes large pieces through the slab where needed without the risk of cracking or otherwise damaging that equipment.

Concrete coring is used to test existing concrete. Removing a core or cylinder allows you to check for signs of cracking, rust, spalling, and other weakening. That core can then be filled in with fresh concrete, as needed.
Concrete coring in Boston MA is also used to remove unwanted concrete. Traditional jackhammers, used to break up concrete sections, are extremely loud. They also create bothersome dust requiring the use of a personal protective mask and lots of vibrations! Jackhammers might also crack surrounding concrete, necessitating patching, and other repairs.
Coring is a precise, clean removal method. Coring doesn't break up concrete haphazardly and creates very little vibration and mess. The coring process is also safer for surrounding concrete, as it doesn't risk cracks and other damage.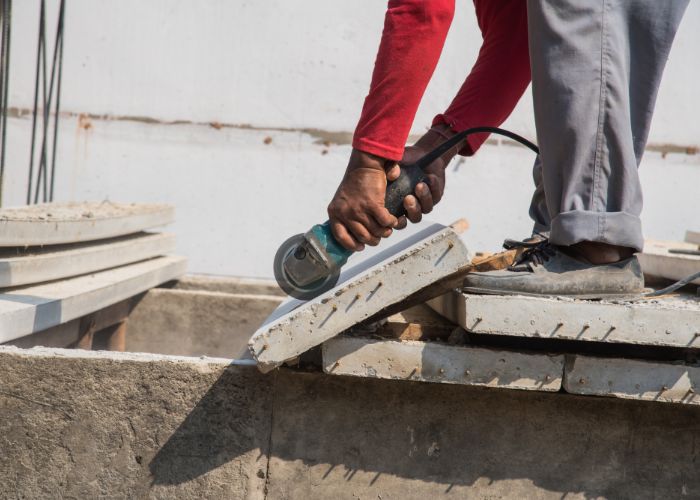 What Is Concrete Drilling and Sawing?
Concrete drilling is somewhat similar to coring. As the word implies, drilling creates a small hole through a concrete slab rather than removing a concrete cylinder. Drilling is often used for wiring or conduit installation that only requires a small opening.
Concrete sawing is similar to sawing wood or other materials. Concrete sawing is often used to create new expansion joints or small trenches between concrete sections. These trenches or gaps allow concrete to expand as it absorbs moisture without cracking or spalling.
Flat sawing is also used to remove shallow concrete slabs, such as interior or garage floors, patios, or driveways. If you're ready to pour a new driveway, for example, sawing breaks up the existing concrete quickly and easily!
Concrete sawing also allows you to remove small or precise sections of shallow concrete slabs when needed. For example:
Use sawing to remove cracked, rusted, broken, or otherwise damaged concrete sections without affecting the surrounding concrete.

Precise sawing can be used to remove specific sections of a concrete floor. For instance, sawing cuts away concrete sections you want to replace with tile or other materials.

Concrete sawing allows for easy access to wiring, pipes, or other features underneath concrete surfaces.

Sawing also allows cutting through concrete floors or walls without damaging surrounding wires, cables, conduits, pipes, or other features.
How Deep Can You Core Drill Concrete?
Most concrete core cutters can create an opening up to 60 inches or five feet wide in concrete with one pass. Creating added core cuts side-by-side allows for any opening width.
Also, coring can be done to any depth needed to complete the job! A concrete cutter can make repeated deep cuts in the concrete, creating more depth as they work. Whether you need an opening for a drain, commercial-sized plumbing pipes, or the like, a concrete cutter can fabricate existing concrete as needed.
Concrete Cutting & Coring Boston is happy to explain the purpose of concrete coring in Boston to our readers. Hopefully, you found this information helpful! If you're in the area and need concrete fabricating, call our experienced Boston concrete coring contractors. We offer a wide range of cutting, coring, drilling, and other concrete fabrication services. All work is fully guaranteed! To find out more or to get started, give us a call.