Is a concrete wall or floor in the way of your home renovation plans? Would you enjoy an electric light or outlets on your home's concrete patio without exposed wiring? If so, don't despair! Concrete coring and drilling are excellent choices for cutting through concrete, whether to remove a section of the material or to run wiring and other materials right through a section of concrete.
Concrete coring and drilling are two common methods of creating openings through concrete walls, floors, and exterior slabs. To help you better understand these choices and which is right for your project or needs, note a few vital differences between concrete coring and drilling, and their various uses.
Concrete Drilling
As the name implies, concrete drilling involves drilling through concrete as you would any other material. This drilling might go directly through a concrete wall, from front to back, or run horizontally along the length of a wall, floor, or exterior concrete slab.
Concrete drilling provides small openings perfect for running wiring, conduit, and other such small pieces through concrete. Drilling through the length of your home's concrete porch or patio allows you to "snake" electrical wiring through these outside spaces while keeping those wires in the concrete, protected from weather and out of sight!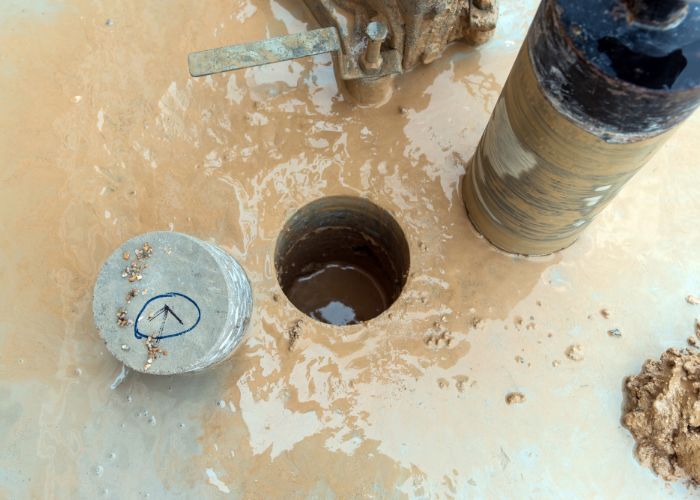 Concrete Coring
Concrete coring is similar to drilling; however, rather than using a small drill bit, coring uses a large, round cutting tool on the end of the drill. This cutting tool bores through concrete, creating a much larger hole than a drill.
Concrete coring is an excellent choice for creating the opening needed in a concrete floor for a new drain, as an example. Concrete coring tools also allows a contractor to remove large section of concrete, such as for a window or vent in a basement wall.
If you're still unsure the best method of concrete cutting for your needs, talk to a concrete cutting company near you. A contractor can inspect your property, discuss your needs for concrete cutting, and ensure you choose the best method for your purposes.