A concrete wall or floor shouldn't stop your home renovation plans, as you can drill into concrete safely and easily, with the right tools and techniques! It's also possible to install plant hangers, light fixtures, and other items from exterior brick walls by drilling into mortar the same as you would concrete.
To drill into concrete the right way, you need certain tools and a bit of prep work. Note a few tips on how to get this done and remember that it's good to call a professional if you run into any issues or aren't certain of the right processes, to avoid the risk of property damage and injury.
Tools to Drill Into Concrete
First note the tools you need for concrete drilling. These include a variable speed handheld hammer drill with a masonry drill bit, concrete screws, and masking tape. It's also good to have a shop vacuum for cleanup, a ruler and marker for making note of where you'll be drilling and of course proper eye, ear, and breathing protection!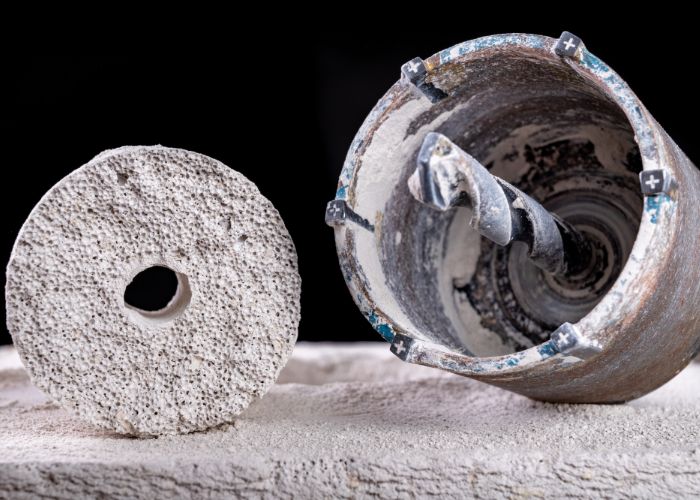 How to Drill Into Concrete
First make a mark as to where you want to drill into concrete. Next, ensure there is nothing behind or underneath the concrete such as electrical wiring, plumbing pipes, conduit, and the like. If you're not sure how to find hidden wiring and pipes, it's time to call a concrete cutting expert!
Set the depth stop on your drill 1/4 inch longer than the depth of the hole you want to drill. Make a guide hole about 1/8 inch by gently drilling a concrete screw into the mark, starting with the slowest speed. Don't force the drill as you'll break the screw.
Once you've drilled a small guide hole, pull the drill away and remove all accumulated dust. Replace the drill in the pilot hole and continue drilling without forcing the drill forward. If you run into an obstruction use a masonry nail and tap it into the hole to create an opening for the drill bit.
As you apply a screw into the hole, note if the threads grip properly. If not, use a concrete or masonry anchor first. An anchor provides a better grip for your screw, ensuring it stays in place.